Who We Are
H. Kulak & Son Commercial Roofing is a family-owned company rooted in Christian values, committed to delivering top-tier, cost-effective roofing systems across the Northeast. Our team consists of in-house, skilled craftsmen, who operate our equipment, and are certified by major manufacturers. With a robust project management team, we can tackle projects of any size, while maintaining a personal touch, ensuring excellence in every job we undertake.
Striving for Excellence
for all your Commercial Needs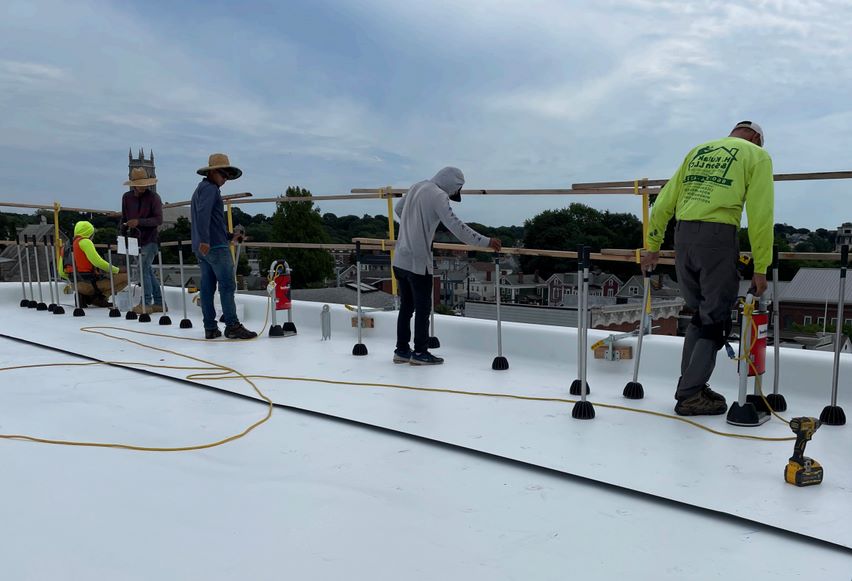 Single Ply Layovers
A single-ply layover system offers a swift and cost-effective solution to waterproof a leaking building while securing a robust manufacturer warranty. Most existing roof systems can be rejuvenated with minimal intervention, requiring only a thin separator sheet or board between the new membrane and the old roof. Additional insulation board is optional.
This process allows facilities to maintain uninterrupted operations, often without noticing the presence of HKS crews until the job is complete. In certain scenarios, a quick removal of the top membrane layer can be performed, leaving the substate materials in place for inspection and selective replacement. This approach technically reduces the number of roofing layers, avoids triggering new energy codes, and offers some of the benefits of a complete replacement at the cost of a layover system.
Complete Replacement
When a roof accumulates multiple failed layers, a complete replacement becomes necessary. A consequence of putting it off can result in carrying excessive weight, obscures leak sources, and conceals damage to the roof decking and other structural elements. Although complete replacements come at a higher cost per square foot, they ensure the building's optimal condition. This involves replacing all water-damaged roof decking, eliminating moisture-laden materials, and installing a minimum R-30 roof insulation in compliance with state energy codes.
While most facilities can maintain functionality during these replacements, operations may temporarily pause in areas with severely water-damaged exposed steel decking. HKS foremen, superintendents, and project managers excel in coordinating work with operational facilities, minimizing disruptions during complete tear-off operations.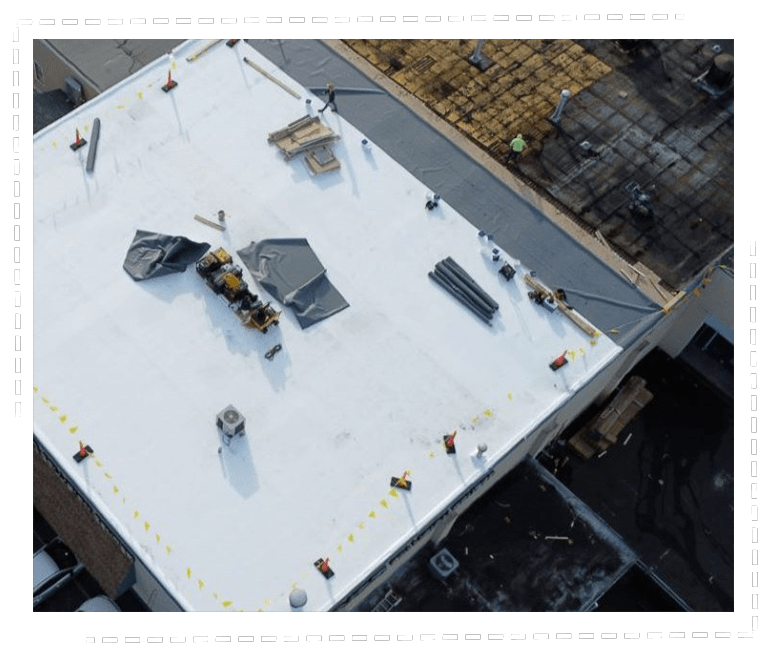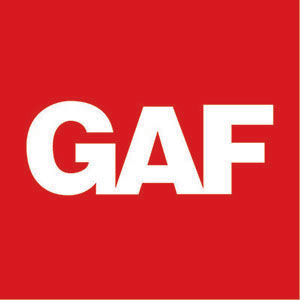 We use Industry Leading


GAF Roofing Materials
---
GAF has built a sterling reputation in the roofing industry for consistently delivering top-notch products that offer exceptional durability and performance. With a wide range of roofing materials to choose from, GAF ensures that our customers can find the perfect solution to meet their specific needs.
New Construction Projects
The HKS team excels in the dynamic commercial construction sector. Several of our project managers bring valuable experience in construction management. Our entire field team is well-versed in safety protocols and fully equipped to thrive on bustling commercial sites.
Our estimators are trained to optimize all specified systems for maximum efficiency. Our superintendents excel at seamless coordination with other trades, ensuring top-notch quality and minimizing rework. At HKS, we take pride in delivering swift, high-quality service to promptly secure the project and keep it on track.
Metal Retrofit Systems
The most effective way to roof a pre-engineered steel building with standing seam or corrugated panel roofing is through the installation of a metal retrofit membrane system. Typically, within 20 to 30 years of construction, roofing details relying on sealants and screws on corrugated buildings tend to deteriorate, leading to leaks. While many companies attempt to address this issue with coating systems (essentially white paint), no product can form a lasting bond with weathered metal, often lasting no more than 5 to 10 years.
For a comparable price per square foot to a high-end coating, HKS offers the installation of a metal retrofit membrane system, providing a No-Dollar-Limit membrane warranty, increased R-value, and enhanced aesthetics with new metal edge trim and gutters. Essentially, the existing metal roof is transformed into a new steel roof deck. The process involves fitting a base layer of insulation to match the existing metal roof's profile and enhancing edges with wood blocking. A top layer of insulation or recovery board is then installed with a membrane system, similar to other layover systems. Unlike coatings, metal retrofits can be installed year-round, regardless of temperature.
WHY CHOOSE US?
WE HAVE A PASSION FOR QUALITY WORK
By putting your trust in a company like ours, your building will receive great roofing care to ensure a secure environment for everyone. You don't need to wait until your roof is deteriorating due to age or other unanticipated events; arrange a roof inspection right away. Join our extensive list of contented and satisfied clients. Trust a reputable roofing company; trust H. Kulak & Son LLC.
EXPERIENCED
CONTRACTORS
---
Backed by decades of experience, our seasoned team has successfully tackled a wide range of roofing challenges.
QUALITY
MATERIALS
---
We prioritize excellence by using only the finest and most durable materials, ensuring your roof receives the best service.
PROFICIENT
SERVICES
---
Our roofing service is renowned for its unmatched proficiency, delivering top-quality services that stand the test of time.
Special and Historical Projects
In the roofing industry, each project is unique, and at HKS, we've successfully completed numerous distinctive projects. From ensuring historical district compliance to navigating logistical challenges and crafting custom sheet metal solutions, our dedicated project management team is here to exceed customer expectations on every project.
Contact Us!
"We're here to bring your roofing projects to life and ensure they stand the test of time. If you're ready to transform your roofing needs into a success story, don't hesitate to reach out to us. Connect with H.Kulak & Son LLC on our social media platforms for the latest updates and insights, and visit our website to explore our extensive portfolio and learn more about our services. Let's build a better roof together contact us today to get started!"