Getting a new roof may not be at the top of your list of things to do before selling, but experienced Farmington roofing companies say it might be the finest decision you make. A new roof can instantly improve the exterior appeal and market value of any property. Having new roofing done is one of the best methods to increase the value of your house and attract more buyers. If you're debating whether or not to build a new roof, keep the following facts in mind.
Enhanced Energy Efficiency
With a new roof, homeowners may sell their homes as being energy efficient. Maximum energy efficiency can raise a home's assessment value because it correlates to greater savings for future owners. Installing new low-E windows and upgrading obsolete appliances can also increase a home's energy efficiency.
Improved Curb Appeal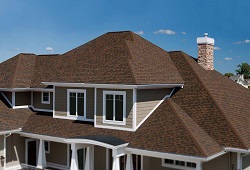 Buyers will only notice money they might not have to pay if they move into a different property if your home has visibly in need of a replacement roof. It's easy for someone who has to pay for a new roof to see why they should buy another home that doesn't need one. Adding a new roof to your home might help it stand out in the neighborhood and attract potential buyers. It might provide you the advantage you need to keep your stay on the market as short as possible, or perhaps ignite a bidding battle.
The Seductiveness of a Transferable Warranty
You may acquire a lifetime transferable guarantee on the materials and labor from the correct Farmington roofing companies, which will be passed on to the next purchasers. A lifetime transferrable guarantee means no out-of-pocket roofing repairs that are covered under the warranty. Buyers may be inclined to pay a higher price to live in a home with a roof that comes with this warranty. A roof warranty may potentially add more value to a property than one without one, especially if it signifies the distinction between a basic and deluxe roofing system.
Buyers' Overall Attraction
According to a Realtors's poll, the most desirable house upgrade to purchasers is new roofing. New roofing outperformed new windows, garage doors, and siding in terms of buyer appeal. New roofing also placed among the top five external improvements in terms of total delight score. Making your property more desirable to purchasers with the correct exterior modifications might make the difference between a speedy sale and a loss of money due to a longer period on the market.
Making a Statement in the Market
Roof replacement offers more fascinating possibilities than in the past. You may substantially improve your home's appearance, feel, and functionality with a new roofing system. Roofs made of metal endure longer than shingles and make your house cooler in the summer. With the correct certified roofing contractor, such as H. Kulak & Son, you may find eco-friendly roofing materials and much more.
Lower Maintenance Costs
An old, out-of-date roof might cause problems for future homeowners. Old roofs may leak, lose shingles in a storm, and cause water damage throughout the house. These potential hazards of an old roof may be enough to persuade a prospective buyer to go elsewhere. Provide customers with peace of mind by replacing the roof if it is in need of replacement. This will result in lower total maintenance expenditures for the next owners, thereby enhancing the home's overall value to the buyer.
Other Factors Contributing to the Appraisal
A new roof, in conjunction with other house upgrades, can increase resale value. There are several factors that go into valuing a house. Provide your appraiser with as much information as possible. Your appraiser will want to see the new roof's invoices, as well as details regarding its materials, construction, and guarantees. The more details the assessor has about the roof, the more probable a good assessment will be issued.
Farmington Roofing Companies Can Assist You
We make it our business at H. Kulak & Son LLC to install only the best quality materials with only the most professional, experienced, and informed employees. Because of this, you can be certain that the task is done correctly the first time. We promise to be on time and within budget for every roofing and exterior project we take on. Call (860) 384-4233 today for a free estimate and to learn how you might boost the value of your house.