Proudly using The GAF Roof System

1. Lifetime Shingles - #1-selling shingles in North America.
2. Attic Ventilation - Remove excess heat and moisture.
3. Roof Deck - Allows moisture to escape from your attic.
4. Starter Strips - Reduces the risk of blow-off.
5. Leak Barriers - Protects against leaks and extreme weather.
6. Ridge Caps - Guards against leaks at the hips and ridges.
---
The GAF Roof System
Click the circles below to examine these options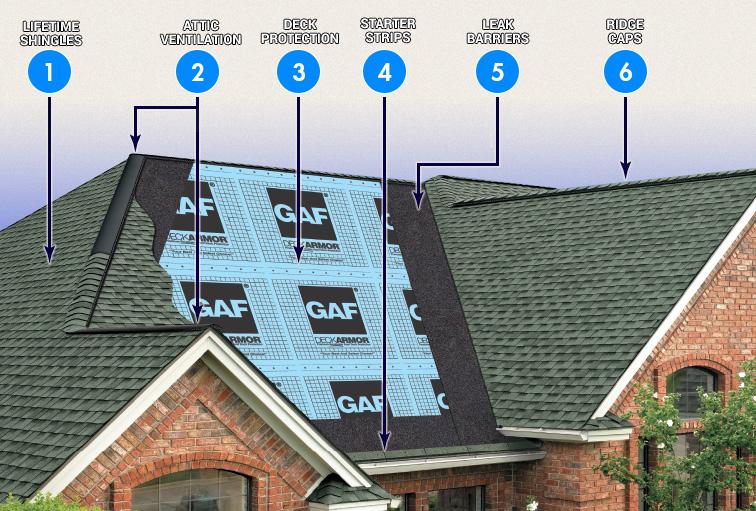 AMERICA'S #1 RATED SHINGLE
WEATHER TESTED UP TO 130 MILES PER HOUR
Weather Stopper
SYSTEM PLUS WARRANTY

The GAF Weather Stopper System Plus Ltd. Warranty provides coverage against manufacturing defects for all major GAF components on your roof (not just your shingles) so youll have the peace of mind of knowing that, if any covered roofing component fails, it will be covered by the warranty.
GAF Roof System
View the GAF Roof System - Piece By Piece
Research one of the best roofing systems in the market, The GAF roof system. Every element of this system is on display from the shingles to the attic ventilation.