Composite Railing Systems Last
Sturdy good looks that offer lasting beauty.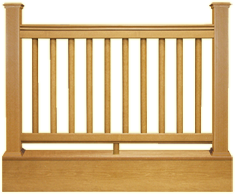 The beauty of painted wood. The durability of a composite.
Why choose wood railing when you can get the look of wood with exceptional weatherability? Thats the beauty of composite railings. They provide the solid feel of wood railing with the strength of a durable composite core, capped with a high-quality white PVC that replicates the look of freshly painted wood.
No splinters or hassles.
Wood railing can require regular upkeep. And with weathered wood, splinters can be a safety issue. Prefinished in white, theres never any need to paint or stain composite railings. The components dont require sanding, sealing or weatherproofing either. The beautiful, smooth finish wont chip, peel or split for years of beautiful good looks. All backed by a 10-year limited warranty.
Beautiful, secure fit and finish.
H. Kulak & Son LLC offers attractive traditional styling. The complete system provides the fit and finish that will meet your highest standards. The components are engineered to work together fastening tight with concealed hardware for a seamless appearance. And it complements any composite, wood, vinyl, brick or concrete surface.